Why are men so difficult to buy for? My husband is one of those guys who is happy with almost everything, but I still struggle to find unique gifts for him. After all, no one wants to receive socks three years in a row. If you're struggling to find gift ideas for men, try one of these gifts.
What gifts do men like?
Men like simple, practical gifts that are still thoughtful.
Whether you choose a unique, sentimental gift or an ultra-practical, personalized gift, you'll be able to show how much you care, whether your guy says he wants nothing or thinks he already has everything under the sun!
What to Gift a Man Who Has Everything
For a man who has everything, you'll have to get creative. Choose something sentimental or personalized if you're looking for a unique gift that he'll love.
Personalized gifts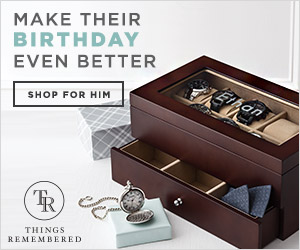 My husband has the personalized leather wallet money clip duo from Things Remembered and we bought one for my brother a couple years ago. They're great quality (my husband has had his for almost 8 years) and both of them love it.
But even if your guy already has a wallet that he loves, there are a ton of high-quality ideas for personalized gifts, like accessories, barware, bags, and even BBQ tools from Things Remembered.
You may want to get the thicker font if you're going to get them engraved, though. Use the code A223 to get 25% off your personalization and free shipping!
Personalized gifts make awesome groomsmen gifts, which is how my husband received both his wallet and Yeti mug.
Check out this list of Etsy products for personalized, unique gifts.
Experience gifts
Experience gifts are also great for the man who has everything. These top 10 experience gifts can be anything from concert tickets, sporting events, an evening out at a local comedy club, or even a once-in-a-lifetime thing like skydiving.
You could also check sites like Craftsy to find unique courses, like wood carving, if your guy wants to learn something new.
I normally start my search for experience gifts on Groupon, which often has discounted local events, or StubHub if I'm looking for a particular event, like a concert or sporting event.
Wine or Beer Subscription
There are now wine of the month and beer of the month clubs that send monthly care packages of different types of craft beers or wine.
My favorite subscription wine companies are:
You can also find wine making and beer making kits so that you can make your own. This would be a fun project to do on a rainy Saturday afternoon.
What to Get a Man Who Wants Nothing
Useful, practical gifts are best for a man who doesn't want anything.
Think of his daily activities. Could you get something to make his life easier? Bonus points if you can personalize the practical gift, like adding a decal with a Cricut cutting machine.
Yeti mug
Yeti tumblers, mugs, and coolers are popular now, but they really do keep your cold drinks cold and your hot drinks hot.
We have both the Yeti brand and the RTIC brand of tumblers, which is usually cheaper than the Yeti mugs. Both brands seem to work just as well.
Before buying a tumbler, consider how your guy will use it.
For example, if he'll take it with him to the gym or to baseball/pickle ball/sporting events, make sure it is leakproof and has a straw/wide mouth for ease of use. I really like these Owala bottles for exercising.
However, if he's going to use it as his new favorite coffee mug or to carry in a vehicle, make sure the base is small enough to fit into a cupholder (get the 24 oz. Owala container in order to fit into a cupholder. The Yeti and RTIC tumblers both have narrow bases to fit into cupholders).
If you have a Cricut cutting machine, you could personalize the mug with your guy's initials or a funny saying, but if not, most jewelers are able to engrave for a small fee.
Phone charging station
This wooden charging station looks nice but still keeps the charging cords organized.
If your guy is on-the-go, you might also consider getting a portable charger. This charger holds a charge for a long time (mine was still at half power three months after I charged it) and quickly charges your phone/tablet/kindle.
Magazine subscription
Give a gift that keeps on giving. Magazines can be a fun way to receive a gift all year long. Before paying full price for a subscription, though, check out Discount Magazines to see if you can get a better price.
These gifts are all clutter-free, usable gift ideas for men that every guy will love.
More Gift Ideas: