Getting organized and trying to choose between the best planners for moms (both for your personal life AND your family life) is always frustrating, especially when your daily life changes abruptly or you have a fluctuating schedule.
When you're creating routines for moms and looking for a great planning solution for your busy mom life, these planners are perfect!
There's something for everyone (work at home moms, stay at home moms, women who prefer a weekly layout, and even families who need an at-a-glance command center to organize everyone's schedules).
Best Yearly Planner
This 2022 annual calendar is perfect to hang in an office or in your command center.
Mark off kids' practices, holidays and birthdays before you hang it on the wall, and then you'll be able to see upcoming events and your family's availability at a glance.
If you prefer a smaller, dry erase calendar for your command center, this is a great monthly dry erase wall calendar.
Best Weekly Planner
Weekly planners are perfect to see your entire week at a glance and keep track of weekly appointments.
I love the Living Well Planner for an all-around planner. The well-laid-out weekly layout includes a place for meal planning, enough room to time block hourly appointments during the day, and a two-page view so you can see your week at a glance.
In addition to the weekly pages, there are pages for monthly goal setting and project planning, budgeting, and notes pages.
Best Daily Planner
If your schedule changes daily or you use time blocking to stay focused and productive every day, a daily planner can help you stay organized. Daily planners are also helpful if you like to create daily to-do lists, keep track of daily goals, and keep a daily health or food log.
Daily planners are best if you keep your planner in a central location, like your desk or kitchen counter, because they tend to get bulky if they span an entire year.
If you plan to carry your planner with you at all times, consider a printable planner like the Organized Motherhood Planner. I print 90 days of daily planning pages at a time and all the monthly planning pages. Then, I fill out the monthly calendars with important dates and upcoming appointments.
Each week, I review the monthly page and add upcoming appointments and events to my weekly page.
If you leave your planner in a central location, The Day Designer Planner has a great daily layout with room to track meals, daily spending, and notes, in addition to your daily time-blocked schedule.
Best Goal Setting Planner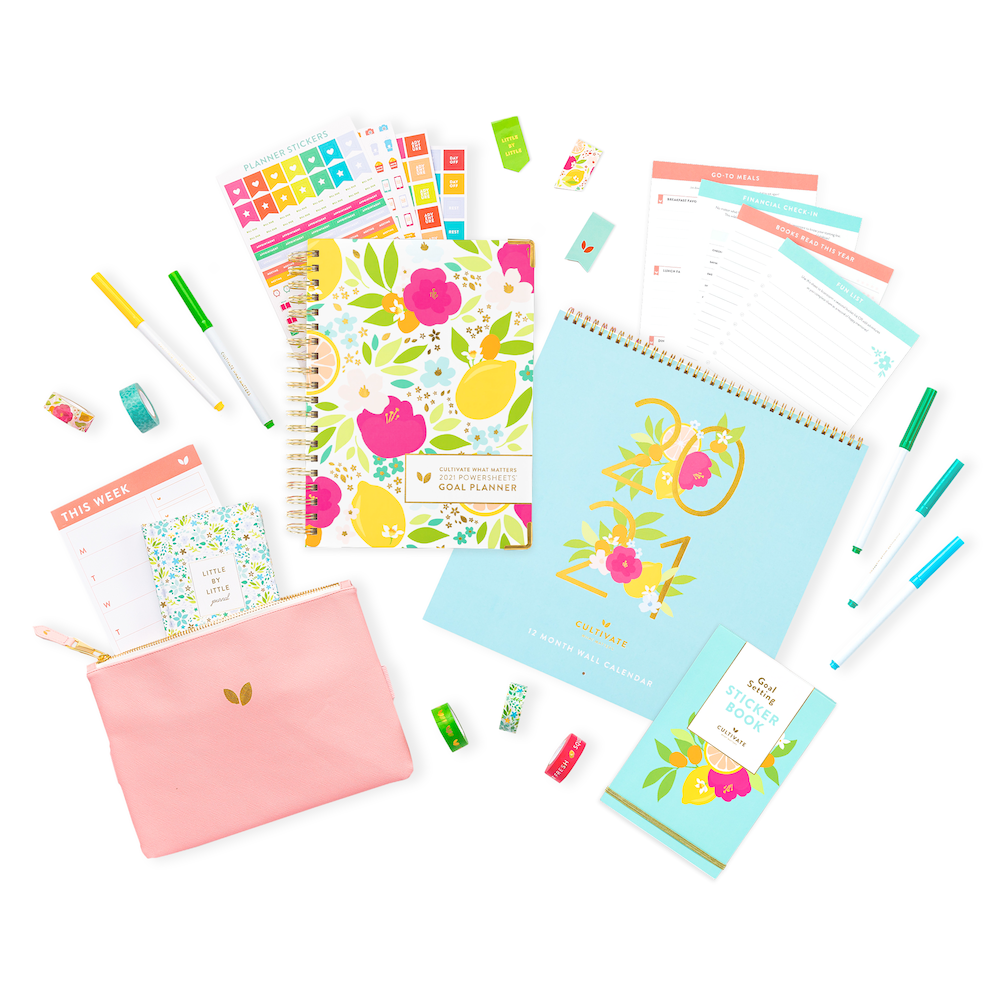 The Cultivate What Matters PowerSheets Planner is an amazing way to track your goals. It helps you set a word of the year, intentional goals to work on throughout the year, and then a "tending list" page for each month so that you can track your monthly, weekly, and daily progress on your goals.
The 2022 updated PowerSheets has an extensive planning section and quarterly refresh pages to help you create (and evaluate) your goals throughout the year. It helps you set goals and aspirations based on your current life, including what's currently going well and what you'd like to change.
You'll also get access to the Cultivate What Matters planning course, which walks you through setting the perfect goals for each area of your life.
If you're ready to commit to making progress for the entire year and you want to incorporate your goals into a planner, get the 2022 annual PowerSheets. However, if you want to test the waters or if you're starting mid-year, try the undated 6-month PowerSheets.
Best Digital Task Manager
Trello is a fun kanban system that's a great way to create to-do lists and manage project plans. You can also share boards and assign people to tasks (perfect for creating a honey-do list).
I keep my cleaning schedule, home maintenance calendar, and decluttering schedule in Trello to stay organized with my home management.
I also use Trello for goal setting and creating an editorial calendar for my business.
Trello is a great way to create tasks and routines, but it's also nice because you can assign tasks to other people (perfect for your honey-do list).
Best Command Center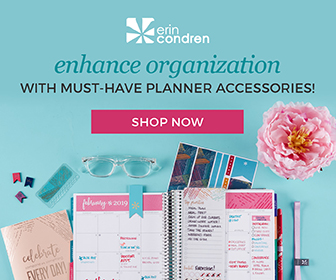 A command center is a great way to stay organized and create a working space that the entire family can see and use. At a minimum, it should include a place for a calendar, notes, weekly schedule, and a place for bills/mail/and random papers.
There are so many cute command center options from Erin Condren. They're really high quality and look beautiful once they're installed.
You can even order personalized options, like chore charts with your kids' names on them or a family calendar with your monogram or name at the top (this would also make a cute gift for newlyweds or a housewarming gift).
If you're nervous about actually drilling holes in your wall to install a command center, I love this inexpensive removable option. I placed it on the wall in my mudroom when we moved so that I could still stay organized without the permanence of a physical command center. I also added a three-bin mail organizer, but mine is a little small, so I would recommend getting this larger organizer, especially if you're using it with pretty folders to sort your bills and papers.
Best Overall Planner for Stay-at-Home-Moms
On days when I'm home with no time constraints (other than meals and the kids' nap schedules), I love using a flexible daily planner instead of structured time-blocked layouts.
SAHMs need flexibility in a planner to create schedules that work for their families. On days when you have appointments and need to be somewhere at a certain time, a time-blocked planner layout is best. However, on days when you're home, a daily layout with room to write your to-do list and include notes and reminders is essential.
Printable planners are best for SAHMs so you can customize the layout exactly as you need.
Get the Organized Motherhood Routines Bundle so you can create customized routines based on your ever-changing life.
Best Overall Planner for Working Moms
If you work outside the home, start by creating a family command center to organize your family's schedule, meal plans, and mail. This is also the perfect place to store backpacks, your purse, keys, etc. so everything is in one central location.
After you've organized your family's life, take control of your own schedule with a weekly planner like the Living Well planner.
Best Cleaning Planner
What's the best way to create a cleaning routine and track your progress?
If you want to create a cleaning schedule for the whole family to use, start using printable chore charts. I love keeping my kids focused with personalized chore charts, but it's also helpful to use a cleaning checklist, whether I'm trying to deep clean the house before a holiday or trying to finish my weekly cleaning routine.
Create a cleaning routine that you can stick to, and then work on deep cleaning your house.
Keep your entire home organized with the Conquer Your Chaos Bundle with:
Room-by-room cleaning plans
Whole home cleaning schedule
30-day Decluttering Planner
Weekend Warrior Decluttering Workbook
Best Home Binder
If you're looking for an all-in-one solution, consider getting a home binder or a life planner. Keep your budget, meal planner, and schedules and routines in one central location.
Think of it like a command center in a binder!
Get the Organized Motherhood Home Binder:
As you try to organize and simplify your life with a planner, consider which style of planning works best for your life RIGHT NOW. Remember, just because something worked in the past or works well for someone else doesn't mean that it'll work for your season of life.
Think about your current goals and objectives, as well as your current lifestyle. Whether you work from home, are a SAHM, have young kids or older children, there's a planner for you.
It is POSSIBLE to get organized. It's just a matter of finding the best method for your lifestyle!